Hosted by the Charlotte Vulcan Riders Chapter 1-7 of the Vulcan Riders Association – America.
Join Vulcan Riders from the USA, Canada, and around the globe in Hendersonville, North Carolina on July 11 – 15, 2022 for "THE HENDO" 2022 VRA East Rally.
Hendersonville, North Carolina – Average monthly temperature for July 75° F.
Hendersonville is a city in Henderson County, North Carolina, United States with a small-town feel. It is 22 miles south of Asheville and is the county seat of Henderson County.
Hendersonville, NC will allow an escape from life's hectic pace through the beautiful scenery and southern hospitality with varied Attractions, Events, Outdoor Recreation, Family Activities, a vibrant Art Scene, unique shopping and a wide selection of Dining Options.  Sierra Nevada along with Henderson County's other Wineries, Breweries, and Cideries provide tours and tasting rooms, to sample mountain grown selections.
Please allow the Charlotte Vulcan Riders Chapter 1-7 to assist you in making memories in this charming mountain town.
Rally Central will be at the Cascades Mountain Resort, 201 Sugarloaf Road, Hendersonville. The newly renovated facility is ideally located at the intersection of highway 26 and 64. Rally Central is conveniently situated within three miles of restaurants, medical facilities, laundromats, liquor/beer stores and supermarkets. The Cascades Mountain Resort offers:
Large Bike staging area
Large outdoor patio seating
Fire pit
Game room
On site restaurant
Banquet rooms
Indoor swimming pool with water slide
Large indoor screened hot tubs
Please call the Cascades Mountain Resort at 1-828-595-8155 and ask for the VRA 2022 East Rally "THE HENDO" room rate. All rooms are $104.49 from July 11 through July 15, 2022.
This rate will also be honored for early attendee reservations for the preceding Saturday or Sunday until December 31, 2021. 
The hotel rate includes a hot breakfast. The hot breakfast may be restricted based on the July 2022 Covid limitations.
Dinner can be purchased at the Cascades Mountain Resort restaurant each day, or you can explore some of the local restaurants noted below:
Waffle House
El Paso Mexican Restaurant
Fireside Restaurant & Pancake Inn
Outback Steakhouse
Golden Corral
For the VRA family that likes to camp, the following campgrounds are within 3 miles of Rally Central.
Apple Valley Travel Park ; 1 Apple Orchard Rd, Hendersonville, NC 28792; Tents – not allowed
Red Gates RV Park; 148 Red Gates Ln, Hendersonville, NC 28792; Tents – allowed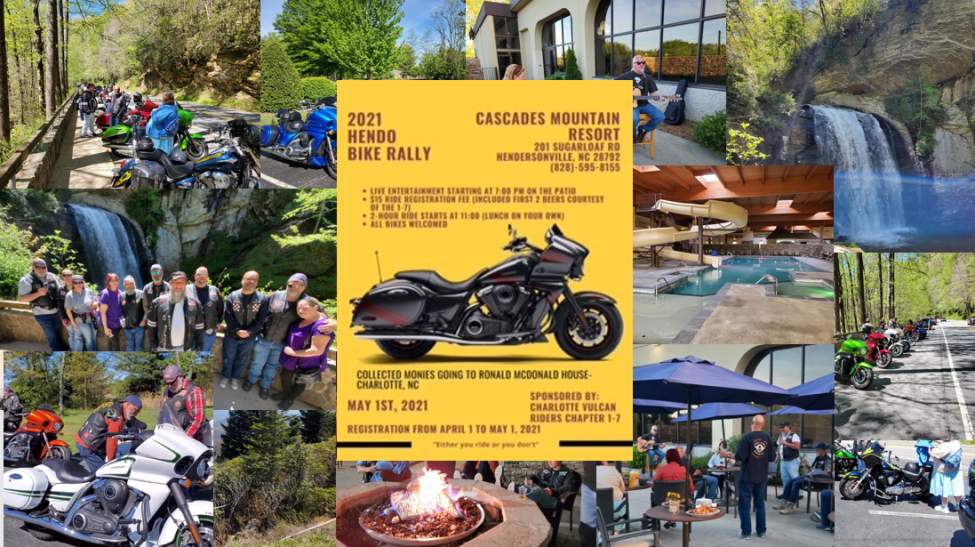 The 1-7 Family, May 01, 2021 Dry Run Rally – fine-tuning the 2022 rally game plan for our VRA family.
Evening Activities:
Monday, Tuesday, and Wednesday evening activities will include musical entertainment on the patio, beer keg with free beer ticket each evening, and 50/50 corn hole tournaments.
Daily Rides:
Rides selected consist of incredible waterfall stops, winery visits and winding roads through apple orchards, the Pisgah National Forest, and cliff lined gorges. These routes will have challenging curves, ascents, and descents accentuated with breath taking scenic views.
Tuesday Night Dinner option:
Dinner on your own.
Wednesday Night Dinner:
Dinner on your own.
Thursday Night Banquet Dinner:
Slow cooked beef or roast chicken served over garlic smashed potatoes with chef's choice vegetables, house salad, assorted rolls.
$35.00 per person includes tax and tip.
Prepared by the Cascades Mountain Resort
$20.00 out of the banquet meal $35.00 cost will be donated to the 2022 VRA East Rally "THE HENDO" local charity – Veterans Healing Farm.
Veterans Healing Farm
VA Produce Donations
Veterans Healing Farm Mission Statement:
Transitioning from military life back into the civilian sector is a challenge all veterans face. Unfortunately, many veterans lack the tools, support network, and resources needed to meet this challenge.  The results are an alarmingly high rate of veteran suicide, depression, divorce, homelessness, and substance abuse. 
Our mission is to serve our nation's veterans by growing and donating high-quality fruits, vegetables, and flower bouquets to veterans and their caregivers free of charge. Additionally, we support veterans by offering workshops on innovative gardening techniques and foster a thriving micro-community of veterans and civilians who build deep friendships and cultivate emotional, physical, and spiritual health.
The $20.00 per person donated from the banquet dinner $35.00 cost goes directly to this amazing charity which supports our veterans.
All rally attendees will be asked to bring a thank you card as an acknowledgment of our veteran's service. A basket will be placed in the lobby for the thank you card collection.
Watch for notifications on the VRA Forum, Vulcan Riders USA, and "THE HENDO" 2022 VRA East Rally Facebook Pages for the Rally pre-orders:
Thursday night banquet meal.

Tuesday night dinner option.

Limited edition "THE HENDO" t-shirts

Rally Rocker Patches.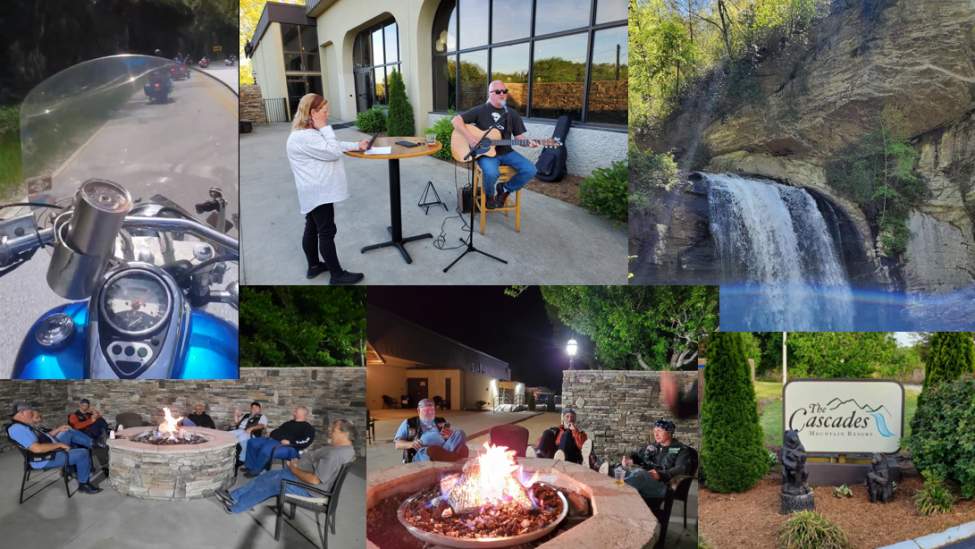 The 1-7 Family, May 01, 2021 Dry Run Rally – fine-tuning the 2022 rally game plan for our VRA family.
Year

Dates

City

State

Host

2021

June 22 – 24

Kerrville

Texas

Fort Worth 1-25 & North Houston 1-77

2019

July 9-11

Sioux City

Iowa

Siouxland Tri-State VRA 1-54

2018

July 10-12

Athens

Ohio

Columbus Vulcan Riders, Chapter 1-32

2017

July 18 – 20

Maggie Valley

North Carolina

Six Chapters of the NC-SC Carolina VRA's

2016

July 12 – 14

Reedsburg

Wisconsin

South Central Wisconsin 1-49

2015

June 23-

25

Eureka Springs

Arkansas

Vulcan Riders Association National & Vulcan Baggers Association

2014

July 8-

10

Bedford

Pennsylvania

Laurel Highlands VRA 1-17

2013

July 9-

11

Cadillac

Michgan

River City Vulcan Riders 1-26

2012

July 10-12

McGregor

Iowa

Pearl City Vulcan Riders 1-33

2011

July 12-14

Stecoah

North Carolina

Charlotte VRA 1-7

2010

July 13-15

Stecoah

North Carolina

Charlotte VRA 1-7

2009

July 14-16

Mt Vernon

Kentucky

(unhosted)

2008

July 15-17

Carlisle

Pennsylvania

South Central Pennsylvania VRA 1-52

2007

July 15-17

LaCrosse

Wisconsin

Greater Midwest VRA 1-10